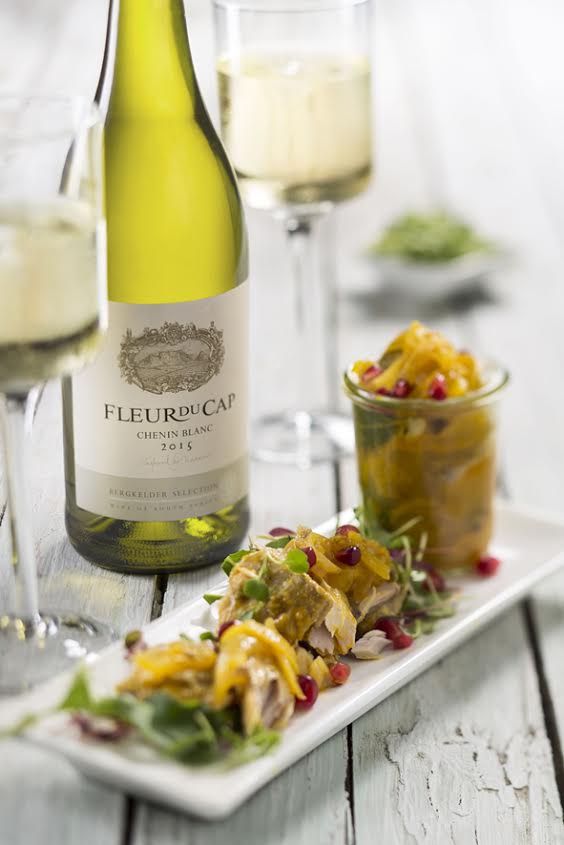 Celebrate Easter in true Cape style by cherishing the age old tradition of making your own picked fish and pairing it with Fleur du Cap Chenin Blanc, a wine made from one of the oldest and most planted grape varieties in South Africa.
If you don't have a treasured family recipe, salt aficionado, chef Craig Cormack, has added his special twist to this famous Cape dish as a perfect taste partner for Fleur du Cap Bergkelder Selection Chenin Blanc 2015. The medium-bodied Chenin Blanc awakens the tangy flavours of this festive fish dish.
"The stone fruit and ripe citrus notes of the wine complement the sweet flavours of the dried apricots and sultanas in the recipe," says Wim Truter, cellarmaster at Die Bergkelder in Stellenbosch.
The lightly oaked Fleur du Cap Bergkelder Selection Chenin Blanc 2015 is a multi-layered wine with complex varietal flavours. Aromas of apple, guava, litchi and a touch of oak spice are unlocked in the first sip, while the mid-palate is filled with tropical fruit and a slightly creamy finish.
Chef Craig Cormack has given this traditional Easter dish a twist by adding wine and pomegranate to the recipe. The wine gives the fish a rich colour, while the pomegranate garnishes the dish with a cluster of rubies.
Pomegranate Pickled Fish
Ingredients
1.5 kg skinned yellowtail
200 ml vegetable oil
1 kg sliced onions
15 ml quality masala
5 ml fennel seeds
5 ml coriander seeds
5 ml black peppercorns
4 whole cloves
4-5 bay leaves
125g dried apricots and sultanas
500 ml white or red wine (red wine gives fish a deeper colour)
10 ml coarse salt
75 ml white wine vinegar
30 ml brown sugar
Seeds of 1 large pomegranate
Method
Preheat oven at 200°C.
Place fish in baking dish – allow space for sauce.
Cook onions for 30 min – until they become sweet.
Stir in masala, fennel, coriander, peppercorns, cloves and bay leaves – fry for 30 seconds before adding apricots, sultanas, wine and salt.
Simmer uncovered for 20 minutes.
Add vinegar and sugar.
Pour sauce over the fish.
Cover with foil and bake for 20 minutes.
Cool completely and refrigerate at least a day.
Serve on salad with home-made lime-mayo
Garnish by sprinkling the pomegranate seeds over the pickled fish.
Fleur du Cap Bergkelder Selection Chenin Blanc 2015 is available at selected stores country-wide. It sells at a cellar door price of R63 per bottle at Die Bergkelder in Stellenbosch, or purchase it online at the Vinotèque.
Join the Fleur du Cap community on Facebook or follow them on Twitter @FleurduCapWines.